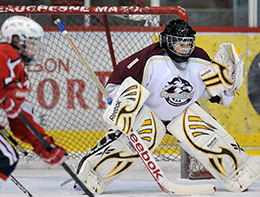 Latest news: Tristan Bérubé writes a page of history in Quebec's AAA Midget League
CIME has chosen to help the young 14 year-old goal keeper, Tristan Bérubé, in his development.
Tristan, who lives at La Pocatière, is honing his skills as goal keeper with the Pee-Wee AA of Rivière-du-Loup. In February 2012 he was chosen as the no. 1 Pee-Wee level goalie in Quebec Province among about one hundred other youngsters of his age. Tristan, a bright student, knows how to get himself noticed as much on the ice as by his achievements in class.
CIME is proud to be associated with this young cerberus so that he can perfect his skills and further his hockeying career. CIME's financial support will allow Tristan to participate in the Sports-study program at the Collège Notre-Dame by paying his registration fees, his AA hockey subscription and his AAA hockey subscription for the summer period during his secondary education.
For Mario Lortie, CIME's president, it is a satisfying gesture to help this young person to progress and to fulfil his dream of becoming one of the best ever goal keepers.
Good luck Tristan!

---

Copyright © 2010 CIME inc. All rights reserved.
Site creation and management : www.berryman.ca